SPX Monitoring purposes; Long on 1/23/18 & 2839.13. Monitoring purposes GOLD: Neutral.
Long Term Trend monitor purposes: Neutral.
Momentum is the name of the game. Momentum weakens first before a high in the market. See red squares on chart above. The RSI started to make lower highs as SP may minor new highs before a pull back started. The situation going on now shows the RSI still is making higher highs as SPX is making higher highs and showing no divergence. Also the McClellan Oscillator is back above "0" and bullish for the short term. Long on 1/23/18 & 2839.13.
---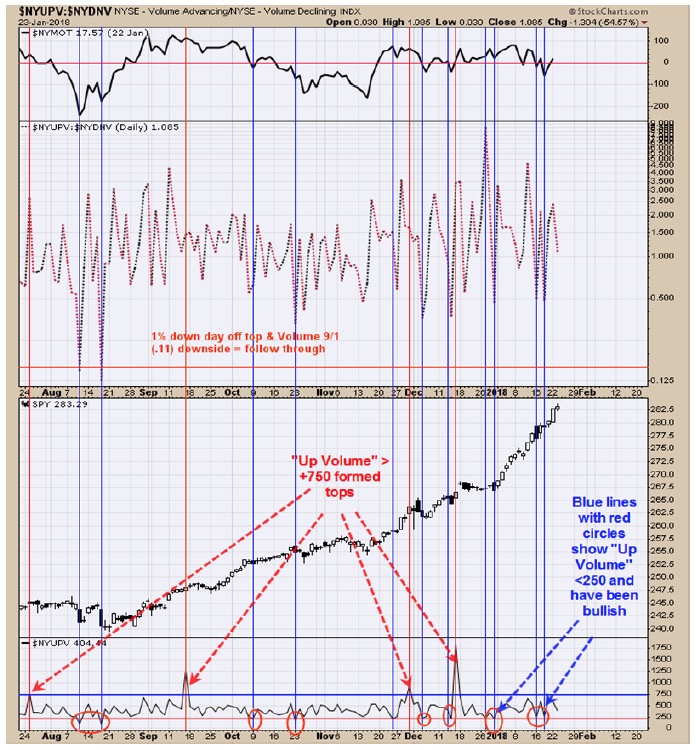 There are two studies that suggest the uptrend will continue. When January is up 11 of the last 14 days the next 9 days are up 93% of the time. The other study shows when the SPX closes within the top 5% of it's day trading range for two days (that happen Friday and yesterday) the market is higher the next five trading days 97% of the time with an average gain of 1.70 gain. The bottom window on the chart above is the NYSE Up Volume; readings below +250 have appeared near lows (blue vertical lines with red circles) and readings above +750 have appeared near tops (blue vertical lines). Last Tuesday and Thursday's the +250 ranges where hit. A spike above +750 will suggest the rally is ending; today's close came in at +404. Long on 1/23/18 & 2839.13.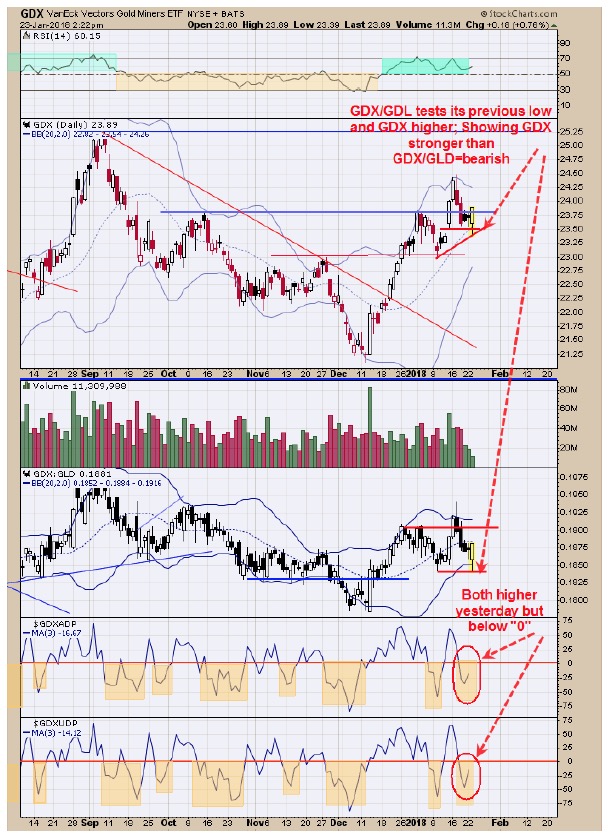 Both the Up down Volume and Advance/Decline indicators (bottom two windows) is below "0" and in bearish levels for GDX; though both gained ground yesterday. With today's rally in GDX both UP Down Volume and Advance/Decline indicators most likely again gained ground but won't be updated until later tonight. Today the GDX/GLD ratio tested its previous low of early January and GDX was far above its early January low, showing GDX/GLD ratio is weaker than GDX and a bearish sign for GDX. For a bullish case, one would like GDX/GLD ratio to outperform GDX and that is not happening here (when it does it could mean next major rally is starting). It is said that GDX/GLD ratio leads the way for GDX and it that turns out he case here then GDX may test the early January low near 23.00. January 31 is a full moon (also a blood moon and blue moon) all of which may have an impact on Gold and Gold stocks. Moon phases have an impact on gold (don't know why but do) and the upcoming moon phase could mark a significant turn for gold and gold stocks. The longer term trend remains bullish.
Tim Ord,
Editor
Visit www.ord-oracle.com. New Book release "The Secret Science of Price and Volume" by Timothy Ord, buy on www.Amazon.com.